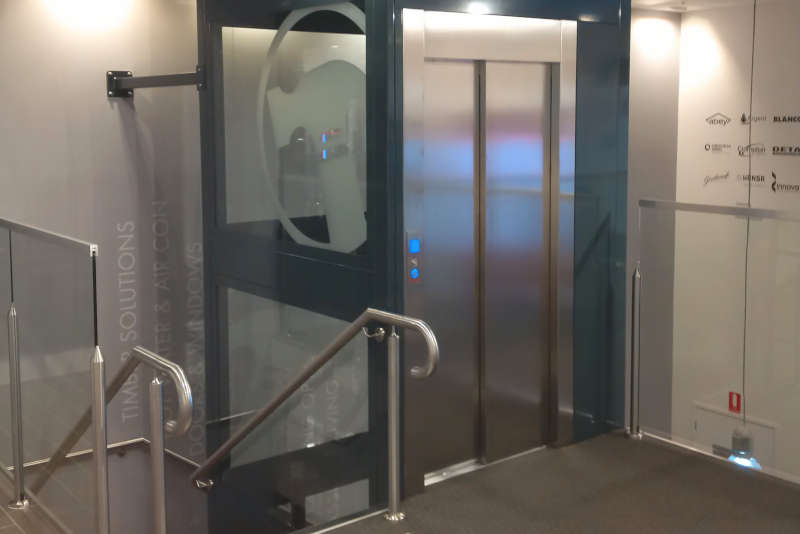 Australian legislation requires buildings to be accessible for people with a disability. This includes schools, shops, banks, cafes, restaurants, cinemas, and any other premises the public or a part of the public is allowed to enter or use. Installing a commercial lift is one of the best ways to make your building easily accessible to everyone.
What To Consider When Purchasing A Commercial Lift
When purchasing a commercial lift it is important that the lift you choose matches your budget, building style, and mobility requirements. There are a number of factors to consider to ensure that you choose the best lift for your needs including drive system, load rating, custom finishes, and maintenance.
What Type Of Drive System?
There are a number of different drive systems that can be used in a commercial lift, each with its own advantages. The most common drive system used in light commercial and industrial projects include include screw and nut systems and hydraulic systems.
One of the benefits of a screw and nut drive system is that it is typically quieter than a hydraulic lift. Additionally, a platform lift with a screw and nut drive system takes up less space than a hydraulic lift. This is because the drive system is house within the shaft, whereas a hydraulic lift requires a cabinet or machine room to house the pump and reservoir unit.
Platform lifts with a screw and nut drive system are ideal for smaller buildings of 2 to 3 floors. This is because this system has a slower travel speed than most traction and hydraulic lifts at around 0.3m/s, making it unsuitable for buildings with more than 4 floors.
One downside of screw and nut platform lifts is that they require routine lubrication which can increase maintenance costs. However, Aritco platform lifts are built with a self-lubricating system to negate the additional service requirements.
Hydraulic lifts tend to have a significantly faster travel speed than screw and nut lifts, averaging at around 0.6m/s. This makes hydraulic lifts suitable for use in buildings with 2 to 4 floors.
Though hydraulic lifts produce more noise than screw and nut lifts when used, the hydraulic machinery is housed at the lowest level for reduce noise throughout the building. Hydraulic lifts are energy efficient and will save you money on running costs when compared to traction lifts.
However, the cables in a hydraulic lift generally need replacing every 5 years or so due to stretching. Additionally, the hydraulic fluid used in the drive system can give off an odour in hot weather and will need to be drained and changed on a regular basis.
If you're not sure which drive system is right for your needs and budget, contact your local lift provider today on 1300 122 868 for expert advice.
What Is The Necessary Load Rating & Platform Area?
Another factor to consider when purchasing a commercial lift is the load rating. To determine what load rating you need for your lift you will need to know what the lift will be used for. Will it be used as a passenger lift or a freight lift or both?
Another consideration when determining load rating is cost. The load rating of a lift is determined by the area of the platform. The larger the lift platform is, the higher the load rating will be as more passengers will be able to travel in the lift at one time. However, the bigger the platform, the more the lift will cost. So it's important to take into account both your requirements and your budget when determining the necessary load rating for your commercial lift.
What Customised Finishes Are Available?
Most lift providers offer a range of customised finishes and optional extras to design a lift that is perfectly tailored to your needs. This includes material and colour choices to ensure that your new lift perfectly complements the decor of your building.
Additionally, certain finishes are more durable and will prevent your lift from looking old and worn after a few months of use. For example, stainless steel finishes are both durable and reasonably priced. Alternatively, glass finishes are typically more expensive, but are also the most durable.
If you're not sure what finishes are available with your lift or which customisation options best suit your needs and budget, contact your local lift provider for advice and pricing.
Maintenance – How Often & How Much?
The final factor to take into consideration is maintenance. As mentioned earlier, it's important to set out your budget before you begin the process of purchasing a commercial lift. However, this should not only include the upfront costs of the lift, but also the ongoing cost of maintenance.
Be sure to discuss lift maintenance contracts with your lift provider before installing the lift. Find out if they offer lift maintenance and servicing, and approximately how much that will set you back each year. This will ensure that your lift stays in perfect working condition for years to come without blowing the budget.
Your Local Queensland Lift Provider
Axis Lifts is your local Queensland lift provider. We offer both residential and commercial lift installations and services QLD & NSW wide. Our experienced lift technicians will help you choose the ideal lift for your needs and talk your through the entire installation process to ensure minimal disruption to your business.
Each of our lifts comes with a 12 month warranty, including two visits from a member of our qualified service team. Plus, we operate a 24/7 service response to keep your lift running smoothly all year round. Choose Axis Lifts for all of your residential and commercial lift needs. Call us today on 1300 122 868 for a free quote.
Disclaimer: All advice provided in this article is based on standard commercial lift installations. Consult with your local lift provider for personalised advice on installing your ideal commercial lift today.